*FYI - this post may contain affiliate links, which means we earn a commission at no extra cost to you if you purchase from them. Also, as an Amazon Associate I earn from qualifying purchases. Check out our Privacy Policy and Disclosure for more info.
The Esslingen Christmas Market earned the city the title of "Best Christmas City" back in 2018 and is easy to see why, with its abundance of whimsical and well-preserved half-timbered houses mixed with vibrant holiday decor, and even a whole section of the city that transforms itself into a Medieval village.
It goes without saying: Esslingen Christmas Market has a magical quality that leaves visitors stunned by its beauty.
In this Esslingen Christmas Market guide, we'll share everything you need to know about experiencing the wonder of Esslingen Christmas Market for yourself.
NOTE: We last visited this Christmas market in November 2018, so take note that some things may be different this year. We've tried to keep this guide as up-to-date as possible, but let us know if you spot anything we should change!
When is Esslingen Christmas Market?
Esslingen's Medieval and regular Christmas market are scheduled to take place from November 23 – December 21, 2023.
Where to Stay for Esslingen Christmas Market
In need of a place to stay? Here are some quick recommendations for hotels near Esslingen Christmas Market:
Where to Find Esslingen Christmas Market
The Esslingen Christmas market scene consists of basically two main areas; the traditional Christmas market area and the Esslingen Medieval Christmas market, both offering unique experiences to its visitors.
Esslingen's Christmas Market at Marktplatz
To experience the city's traditional German Christmas market in all of its splendor, head over to the Esslingen Christmas market at Marktplatz, where you will find over 80 stalls displaying all kinds of intricate Christmas ornaments, beautiful handicrafts, traditional wooden toys, and much more.
Aside from all the memorable souvenirs that you will find at the Esslingen Christmas market at Marktplatz, you will also get the opportunity to try lots of traditional Christmas market food staples, such as Bratwurst, piping hot cups of Glühwein, warm roasted almonds, and many other festive delicacies.
So grab some sugary almonds and take a stroll around the square to admire the fairytale-worthy sights of the Christmas lights against the half-timbered houses, and take a moment to appreciate the stunning art nouveau style carousel!
Esslingen Medieval Christmas Market
After wow-ing and awe-ing at all the beautiful traditional Christmas decor over at Marktplatz you are ready to step into a whole new Christmas world; the Esslingen Medieval Christmas market!
You will find this time machine of a Christmas market at the Rathaus, which works as the perfect backdrop to the dozens of unique Medieval festive stalls.
Besides your regular Christmas market shopping and eating opportunities, at the Esslingen Medieval Christmas market, you will also find endless options for entertainment, with performances always rotating on the main stage, as well as entertainers going around the market, such as dressed-for-the-Medieval-occasion jugglers, stilt walkers, and more.
Make sure to explore all of the areas of the Esslingen Medieval Christmas Market since it goes from the Rathaus into Hafenmarkt, and there's even a particularly kid-friendly section over at Zwergenland offering medieval games and activities!
What to Eat at Esslingen Christmas Market
All that exploring and bow shooting will surely build up an appetite, which brings us to the most fun part of any Christmas market experience; the festive food!
So here are some ideas of some delicious treats you should have at the Esslingen Christmas market:
1. Käsespätzle
Käsespätzle is Germany's version of the North American favorite Mac and Cheese⁠. This hearty dish consists of fluffy egg noodles swimming in Emmentaler cheese, and is topped with crispy fried onions… pure comfort food in all its glory!
So, whatever you do, you should not miss out on the opportunity to try this cheesy goodness at the Esslingen Christmas market!
2. Wurst
This should almost go without saying, but if you made it all the way to Germany you definitely have to try a Wurst, and luckily, you will find no shortage of options at the Esslingen Christmas market.
The Wurst, or sausage, is the core of German cuisine, with over 1000 different varieties of them, all with their very unique processes and spices, you are sure to find one that you will like.
3. Venison Specialties
We haven't seen this particular dish featured in many Christmas markets around Germany, however, the Esslingen Christmas market offers a small variety of gourmet venison dishes, which you can find at Wildspezialitäten Göbel.
Definitely, something unique to try if you are a foodie in search of regional flavors.
4. Maultaschen
Maultaschen is basically the German answer to the Italian ravioli, consisting of a pocket of dough filled with a flavorful meaty, bready filling that is guaranteed to keep you blissfully full for hours.
It's the perfect comfort food to enjoy while strolling around the Esslingen Christmas market!
5. Magenbrot
Magenbrot literally translates to "stomach bread", but don't worry, it has nothing to do with that, instead, Magenbrot is a little diamond-shaped cookie packed with flavor.
This popular German Christmas market sweet is like the distant cousin of gingerbread, made with a variety of spices like star anise, cinnamon, cloves, and nutmeg, this unique German treat is definitely worth a try!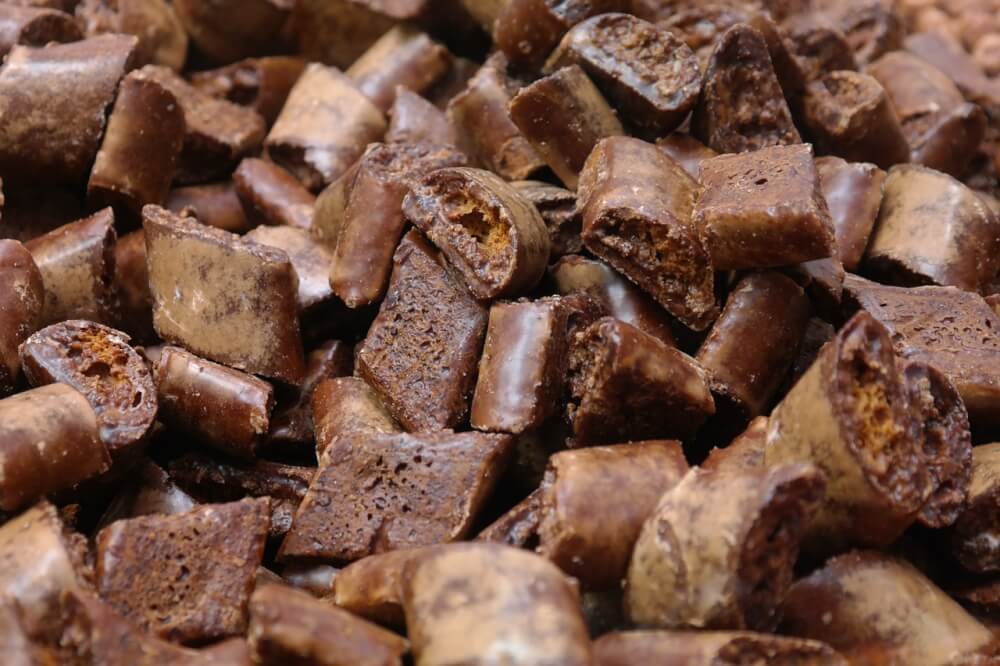 6. Gebrannte Mandeln
Another classic Esslingen Christmas market treat, for all of us with a sweet tooth, is the unmissable roasted almonds, which you will be able to locate from miles away due to their intoxicatingly sweet scent.
These roasted almonds are a winter staple, and at the Esslingen Christmas market stalls you will be able to find different varieties of sugar-coated nuts, as well as other tasty snacks, perfect for that little sweet something after a meal.
Note: Make sure to pay attention to quantities, prices are normally listed per 100g and they are not a cheap snack. But oh, so worth it!

7. Honey Mead
Honey Mead is an alcoholic beverage that is created by fermenting honey with water, and it is believed to be one of the oldest alcoholic beverages ever.
This is why if you stop by the Esslingen Medieval Christmas Market it is your duty to locate a stall of honey mead and enjoy a goblet of this sweet winter beverage and allow yourself to be transported to Medieval times.
8. Glühwein
Without a doubt, the most popular drink of the Esslingen Christmas market scene is the beloved Glühwein.
Glühwein is a staple of the winter months, and it consists of hot wine—typically made with red, but can also be found in a rosé or white wine variation—combined with spices, and it creates a punchy, sweet and boozy drink that is perfect for the cold evenings wandering around the festive stalls.
NOTE: For an alcohol-free option ask for the Kinderpunsch. You skip the hang-over, but get all the flavor!
9. Apfelglühwein
The Esslingen region is home to an abundance of apple orchards, which is why while at the Esslingen Christmas market you will find that the local apples have been integrated into a variety of tasty festive treats, from apple-based pastries to drinks.
One of the stars of the show is the Esslingen take on the traditional Christmas market drink, Glühwein, which has been adapted to the regional flavors and comes in a very unique apple variation.
So make sure to not miss out on this regional festive drink!
10. Heiße Schokolade
If alcoholic beverages are not your thing, but you still want to enjoy a warm cup of something while admiring the festive beauty around you, you can always rely on a cup of hot chocolate to save the winter day!
A cup of silky hot chocolate truly is the best complement to a Christmas-themed day, but if you do want to add a bit of a kick to it, you can always ask for a shot of Baileys, rum, or amaretto for that bit of extra warmth.
What to Buy at Esslingen Christmas Market
After eating your way around the market and exploring all of its corners, you might want to get a little something for family or friends back home to share a little part of your Christmassy trip with.
So here we are going to help you narrow it down, and share with you some ideas of what to buy at the Esslingen Christmas market:
1. Local Wine and Liqueurs
One of our favorite stalls at the Esslingen Christmas market has to be this one stand that looks like is selling some kind of magic potions, which in reality is something even better, bottles of very creatively packaged local wines and liqueurs.
These would make the perfect souvenir to take back home and decorate your bar area, or as a very unique gift to the wine enthusiast in your life.
The only problem is that they are so pretty, you might never want to drink them. Seriously, just look at them!
2. Handcrafted Ornaments
If you are reading this, it is safe to assume that you are a Christmas enthusiast, and what better way to commemorate this Christmassy trip abroad than by finding your favorite German handmade ornament to add to your Christmas tree back home for years to come?
At the Esslingen Christmas market you will find everything from glass baubles to hand-carved wooden ornaments, to these free-standing mildly creepy little Santa figures.
Whatever your Christmas decoration style is, you will surely find something special here!
3. Christmas Market Mug
This is more of a must than an option, you see, every year, every city—and sometimes even different markets within the same city—create a new unique design for the mugs they use to serve the Glühwein in, and you can purchase those unique city mugs.
This makes for the perfect souvenir or gift, especially since they are super affordable, unique to your trip and location, and is also practical. It seriously ticks all the boxes!
So if you are enjoying a piping hot mug of Glühwein and you really love the mug it comes in, you can buy it directly from the stall where you got the drink.
4. Leather Goods
The Esslingen Medieval Market stalls really focus on well-made handicrafts, and since it is following a Medieval theme you will find no shortage of amazing leather work all around, from little coin purses to belts, bags and wallets.
A good quality leather item would make a great practical gift or souvenir if you are more into purchasing souvenirs that you can incorporate into your everyday life.
5. Ceramic Kitchenware
The Esslingen Christmas market boasts an abundance of irresistibly cute ceramic kitchenware, from colorful pots and mugs to butter dishes and sugar bowls, some of them come with cute writing, and since it is in German, it really makes a statement of the trip it took to make it back home with you or to your loved ones.
This option is definitely a bit of a challenge to transport but totally worth it if you manage to take it home in one piece.
Look how cute!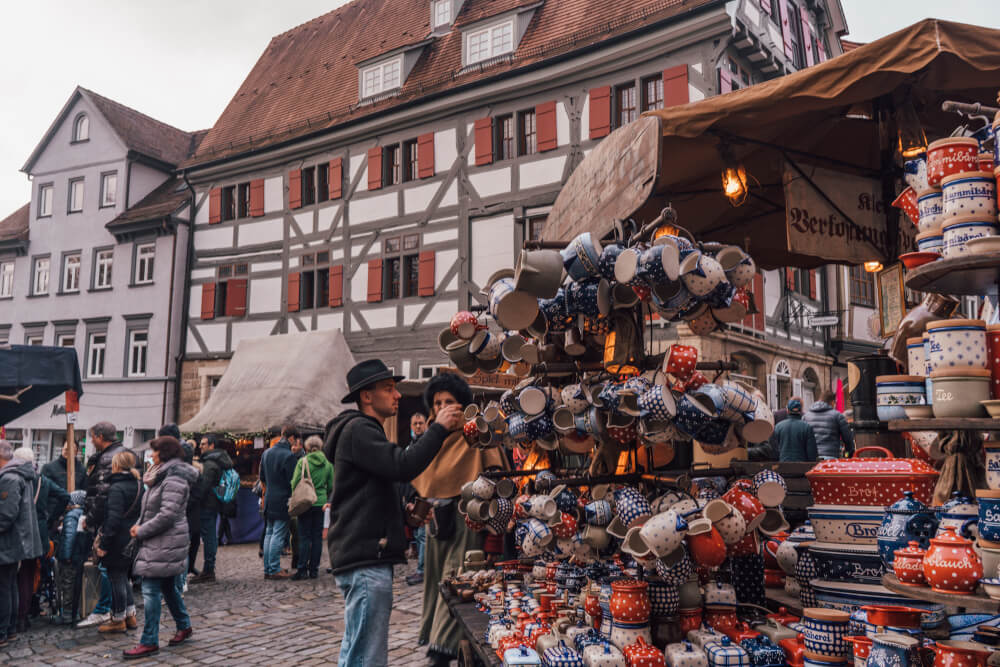 6. Candle Holders
Another souvenir that really requires a commitment to getting it back home in one piece—but that is so worth it because of how cute they are— is these adorable hand-painted candle holders.
You will find these delicate candle holders around the Esslingen Christmas market, with different landscapes displayed on them, most of them decorated for the occasion with dreamy winter wonderland images, making it an ideal cozy gift or souvenir for the winter months.
7. Regional Products
Regional products are always a great souvenir or gift to buy since you know they are really specific to your trip and the area you explored, and it's a great way to keep experiencing the place long after you are gone, or share it with someone back home.
At the Esslingen Christmas market you will be able to find a wide variety of regional products, ranging from oils and sweets to special herbs, jams and mustards, that are locally made with regional ingredients.
So keep an eye out for something special!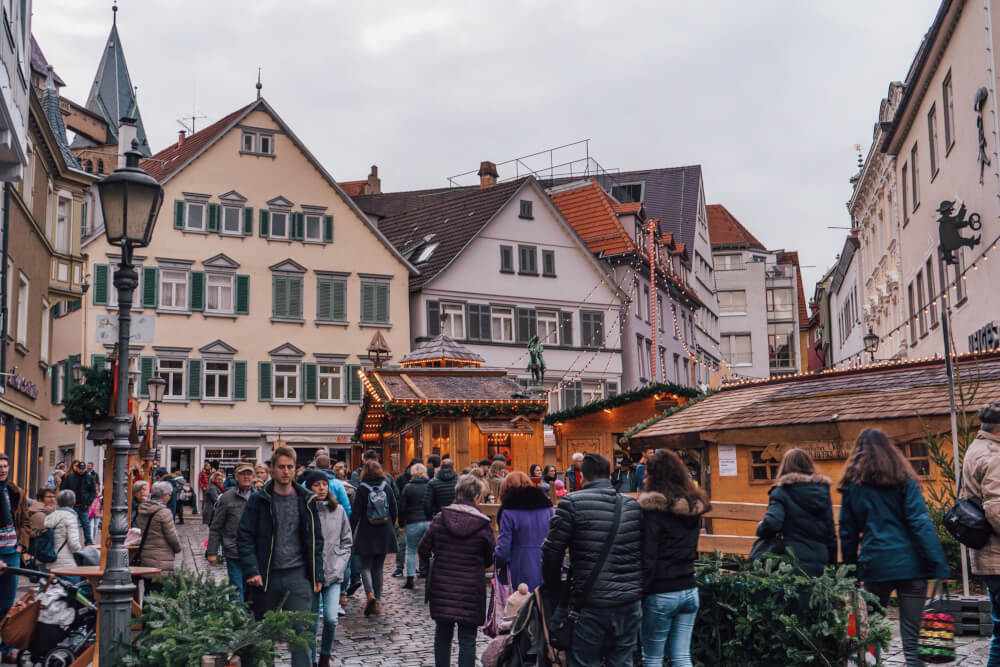 8. Paper Stars
You will find these beautiful Moravian paper stars dangling from trees and stalls around the Christmas market warming up those dark winter nights, they are so cute you will want to take them home, and the good news is: you can!
Contrary to the candle holders, these glowing paper structures are super easy to transport since you can fold them flat into your suitcase, so there's no need to wonder if your purchases survived the flight in one piece.
9. Personalized Gifts
If you really want to surprise someone back home with a practical but also thoughtful gift, then a personalized item is the way to go!
At the Esslingen Christmas market, you will find a variety of gifts that you can have personalized on the spot by adding a special message or a name, whether it is on a mug, a wooden board, or even a piggy bank, you are guaranteed to make someones day with this unique present.
10. Fun Medieval Garb
Lastly, another very unique souvenir that you can get to commemorate your visit to the fun Esslingen Medieval Christmas market is a cool clothing item from the Middle Ages, such as these super cozy sheepskins and other themed goodies.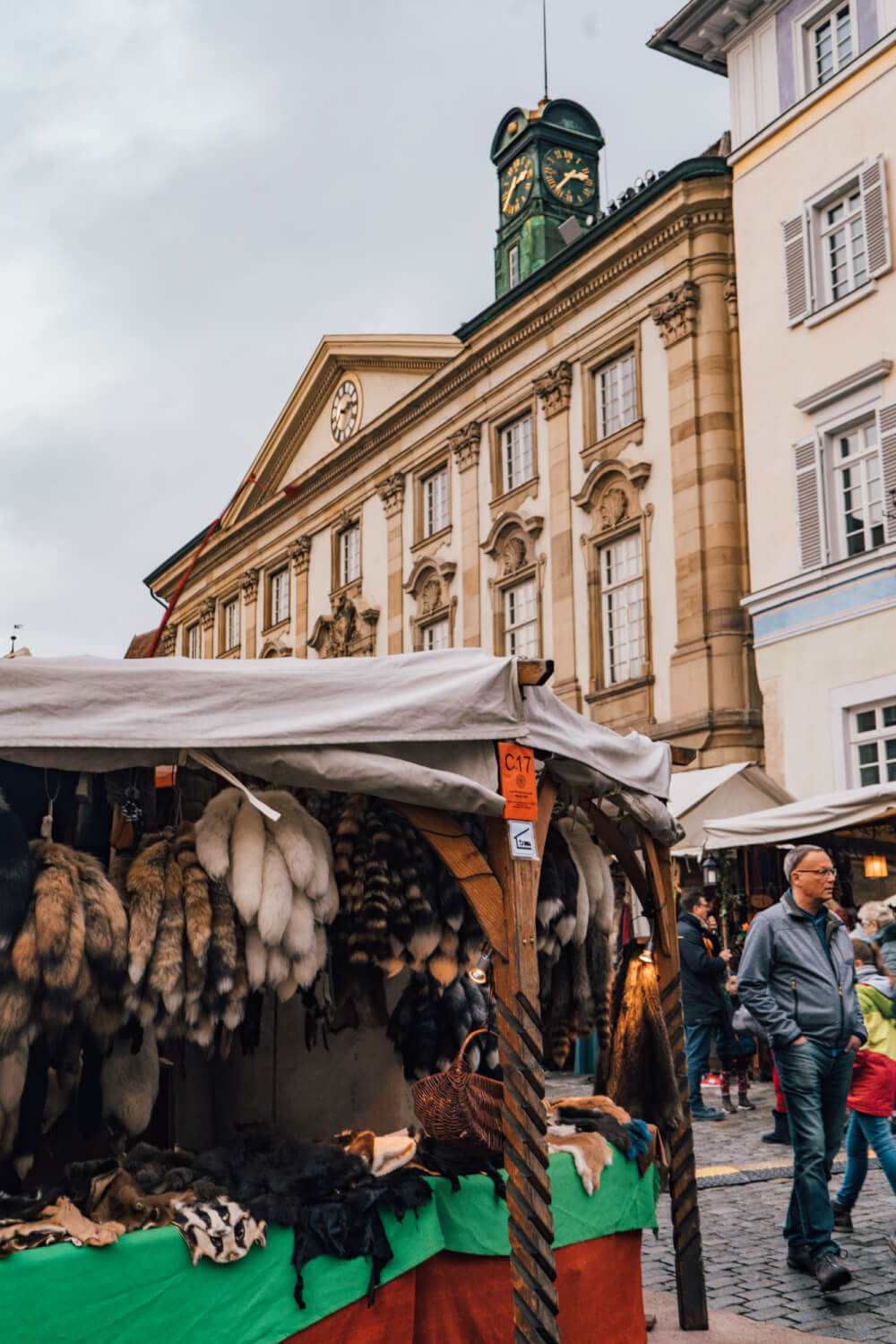 Extra Tips for Visiting Esslingen Christmas Market
Bring cash
If there's one thing you, and one thing only I would advise you, is to always bring cash to the Christmas market.
The vast majority of stalls will not accept any type of card payment, and finding an ATM can get very stressful when all you want to do is enjoy another cup of Glühwein.
So to make your Christmas market experience as smooth and enjoyable as possible make sure to plan ahead and take out enough cash for all your food, drink, and souvenir purchases.
Dress warm
Exploring the Esslingen Christmas market should be a wonderful magical experience, but it's hard to see the beauty all around when all you can think of is just how cold your feet are, and how you don't feel your hands.
Remember that you will be standing and walking outside for hours in, sometimes, near-freezing temperatures, so layer up accordingly to make sure you keep the heat in.
We would recommend wearing a proper winter jacket with lighter layers underneath, scarf, hat, gloves, and very warm shoes, to keep you nice and toasty as you wander around the city's festive streets.
Bring a reusable bag
Germany might not be too forward with the whole card payment thing, but they are when it comes to reducing the use of plastic bags, that is why a lot of stalls will not offer you any bags when making a purchase, or if they do they will charge you for it.
So to make life easier, and generally do something good for the environment, make sure to bring a reusable bag. There are some that literally pack so tiny you won't even notice you are carrying it, but it will come in handy after doing some Christmas shopping.
Where to Find More Info on Esslingen Christmas Market
Official website: Esslingen-marketing.de
Help us improve this Esslingen Christmas Market Guide!
Do you have a pro tip about Esslingen Christmas Market? A particular souvenir you loved, or a delicious treat you tried? Let us know in the comments what your insider tips are for the Esslingen Christmas Market so we can help improve this guide for all future visitors.